Recommended Certifications
(in the broader context of WordPress)
Zend Certified PHP Engineer
The only broadly recognized certification program for PHP.
Over 13,000 Zend Certified Engineers. More than 1,300 ZCPEs in Germany.
Zend offers test preparation courses, study guides, and mock exams.
Current exam is based on PHP 5.5. Update for PHP 7 aimed for fall 2016.
CIW Web Development Series
CIW JavaScript Specialist, and CIW Database Design Specialist exams.
Over 87,000 CIW-certified individuals.
CIW offers self-study kits, student guides, and courses.
JavaScript Specialist: fundamental concepts of the JavaScript language.
Database Design Specialist: vendor-neutral relational database fundamentals.
Pass Perl Specialist exam for CIW Web Development Professional certificate.
Oracle Certified Professional, MySQL 5.6 Developer
Helps developers design & implement applications
that make use of MySQL, data design, querying & programming.
Over 1.5 million Oracle Certified Professionals.
Oracle University offers several training courses (in different formats).
LPIC-1: Linux Server Professional Certification
The first certification in LPI's multi-level Linux Professional certification program.
training course at accredited partners;
pass two exams for the LPIC-1 certificate.
ISTQB® Certified Tester
Most widespread qualification scheme in the world.
Syllabi contents and glossary de facto industry reference.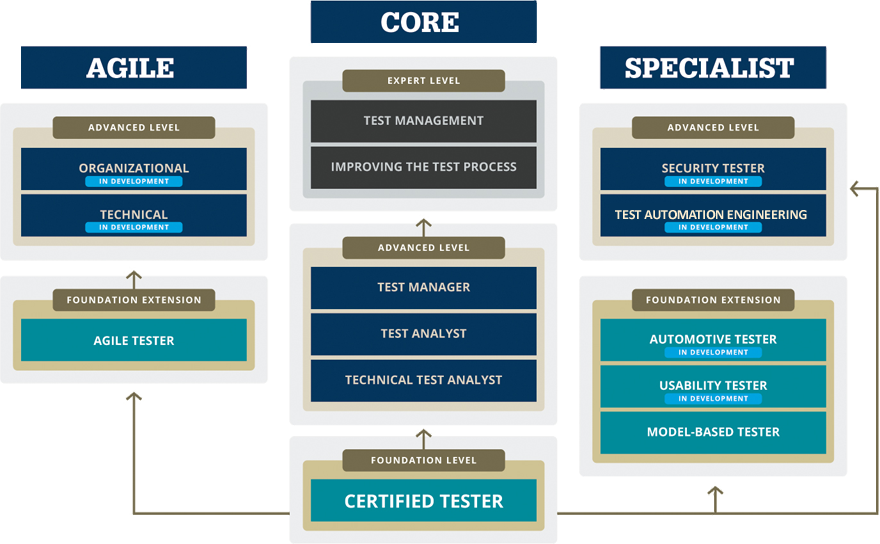 Project Management Professional (PMP)®
The most important industry-recognized certification for project managers.
prerequisites include education and professional experience;
200 multiple choice questions (4 hours);
formal study course, and self-study books.